News
AT&T NIC BARGAINING REPORT #13 July 21, 2016
AT&T NIC BARGAINING REPORT # 13
Thursday, July 21, 2016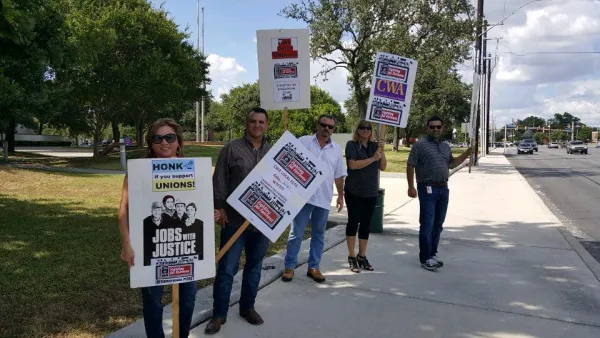 Information Picket today for Internet Services, CWA Local 6143 San Antonio Texas.
The Bargaining Committee met with the company today and the company continues to pass regressive proposals. We were forced to reject their entire package and countered with proposals lifting your standard of living and bringing dignity and respect to the workplace.  We received an overwhelming 92% "YES" on the Strike Authorization votes. Your Bargaining Committee Thanks every member who voted to stand up and fight back against corporate greed! Now, ask your Managers if they are ready to take calls and work with customers demanding service… Our contract is scheduled to expire at midnight Saturday, July 23rd, 2016. Your Bargaining Committee is working hard to get us all a fair contract and we want to get it in on time!
FIGHTING FOR FAIRNESS
ONE VOICE ONE UNION
Mobilize Mobilize Mobilize Mobilize
Please get involved with your Local Union and take actionwith your Mobilization Team.  Stay tuned for further updates!
" Let us sacrifice our today so that our children can have a better tomorrow" ~ A.P.J. Abdul Kalam  In Solidarity,
Your CWA Internet Services Bargaining Committee
Ruth Marriott – CWA Staff Representative Bargaining Chair, T&T, Washington DC
Mayette Arii – Vice President CWA 9413, District 9
Tim Skaggs – Steward, Local 6215, District 6
CWA Passenger Service Agents Reach Tentative Agreement at American Airlines
Don't Cross the Digital Picket Line as Washington Post Members Strike
Workers at Third Wells Fargo Branch File For Union Election