News
CWA President Chris Shelton Announces Retirement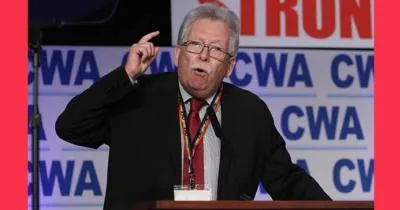 February 23, 2023
CWA President Chris Shelton, who has spent over 50 years fighting for the rights and dignity of working people, announced last week that he will not seek re-election at the CWA Convention in July. In a letter to local officers, he wrote that it was a "tough decision" prompted by family health concerns.
Shelton joined CWA after starting work as an outside technician for New York Telephone in 1968. He quickly became a CWA Local 1101 shop steward, joined the CWA staff in 1988, and served as Vice President of CWA District 1 for ten years. He was elected CWA President by CWA Convention delegates in 2015.
President Shelton's motto is "When we fight, we win." He founded the CWA STRONG program to build workplace power, strengthen bargaining, and resist outside efforts to destroy our union. During the past eight years under his leadership, CWA weathered many challenges including the Supreme Court's Janus decision, which sought to weaken the power of our public sector members; the COVID pandemic; and the ongoing push by many employers to outsource and offshore our jobs. Shelton has championed CWA's efforts to fight racism and other forms of prejudice within CWA, at our workplaces, and in the country at large. He has cemented CWA's reputation as one of the most influential unions in the country and inspired thousands of workers to organize to join our union.
CWA Passenger Service Agents Reach Tentative Agreement at American Airlines
Don't Cross the Digital Picket Line as Washington Post Members Strike
Workers at Third Wells Fargo Branch File For Union Election