News
Maximus Workers Organizing With CWA Stage Largest Federal Call Center Strike in History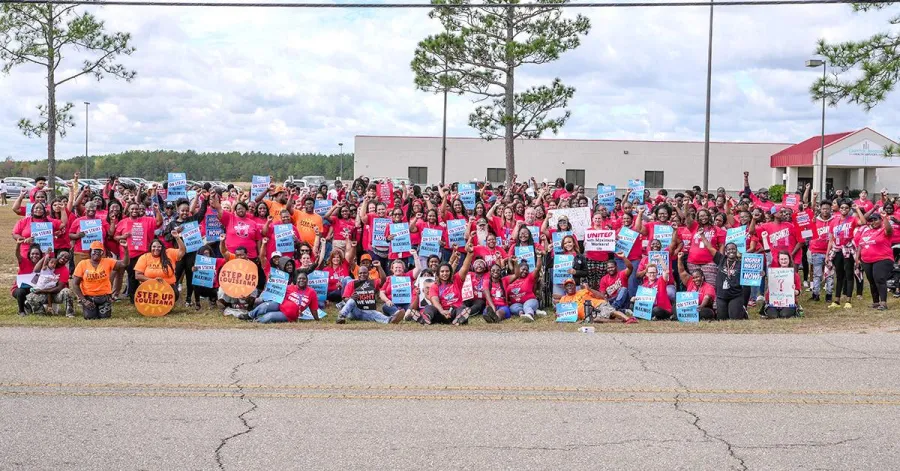 Last week, 700 call center workers at Maximus, the federal government's largest call center contractor, walked off the job in the largest federal call center strike in history. Centers in Hattiesburg, Miss., and Bogalusa, La., were largely shut down, while workers also joined the strike in Albany, N.Y.; Chester, Va.; Phoenix, Ariz.; London, Ky.; and Tampa, Fla.
Maximus workers said they had no choice but to go on strike during the open enrollment period as their demands for livable wages and better working conditions have gone unanswered by the company. In some instances, the company has sought to deter organizing by resorting to intimidation and retaliation—tactics that are the subject of unfair labor practice charges pending at the NLRB.
"I have been working at Maximus for the last nine years, struggling to support both my two children and myself," said Katherine Charles, who has worked at a Maximus CMS call center as a bilingual Obamacare agent since 2014. "I can't even properly treat my own medical condition, which requires a doctor's visit every three months, because the medical bills are so high under our insurance. As we approach the busiest time of the year at the CMS call centers, we need to show Maximus that we won't stand for its mistreatment. We're putting down our headsets and striking for what's right—the better working conditions, wages, and medical coverage we deserve."
During a press conference on the day of the strike, CWA President Claude Cummings Jr. and Stacey Abrams shared their support for striking workers and called out the Biden administration, which awarded the company another massive contract last year, for ignoring the plight of the workers.
"Maximus is a multi-billion-dollar federal contractor. Maximus CEO Bruce Caswell isn't struggling—he's been paid more than $20 million over the last three years, while the company has given hundreds of millions of dollars to shareholders," said President Cummings during the press conference. "We are fed up. Enough is enough. This is not a new problem; these workers have been standing up and speaking out for years."
CWA Secretary-Treasurer Ameenah Salaam joined the strikers in Chester, Va. "It is shameful—absolutely shameful—that you are working hard every day for the federal government and helping millions of Americans, yet you and your families are forced to scrape by," she told the crowd. "Everyone at CWA is committed to standing with you in your righteous fight for respect, for dignity, and a better future for your families and communities, as long as it takes. We are here, and we have your backs."
Actress Kerry Washington, a SAG-AFTRA member, tweeted her support for the striking workers.
Workers are calling on the Biden Administration to raise wages at Maximus to $25 per hour, require Maximus to provide employees with affordable healthcare benefits, and investigate Maximus to ensure it is a responsible federal contractor. Click here to tell the Biden Administration to investigate Maximus.
---
This post originally appeared on cwa-union.org.
CWA Passenger Service Agents Reach Tentative Agreement at American Airlines
Don't Cross the Digital Picket Line as Washington Post Members Strike
Workers at Third Wells Fargo Branch File For Union Election