News
Organizing Updates Around CWA - SkyWest Airlines, Verity Credit Union, and Meow Wolf Omega Mar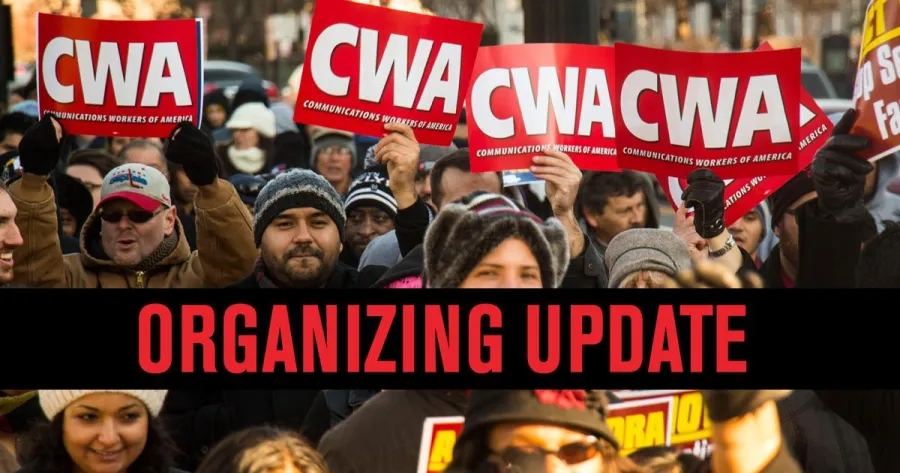 SkyWest Airlines
On September 13, SkyWest management illegally fired Flight Attendant union activists Shane Price and Tresa Grange in an attempt to intimidate Flight Attendants who are working to form a union with AFA-CWA at SkyWest.
Shane and Tresa uncovered a serious security flaw in the company-sponsored voting system used by the company union and heroically stood up for what was right to alert their coworkers to the issue while demonstrating how easily votes can be manipulated. SkyWest is using their whistleblowing as pretext to fire these two prominent leaders on the union drive. But the company shouldn't be involved in "union voting" at all.
The AFA-CWA legal department is addressing these illegal firings, but enforcement rests with the federal courts and management may hope it can get away with their illegal actions long enough to stop Flight Attendants from organizing and gaining the right to collectively bargain.
Support the Flight Attendants organizing at SkyWest by signing their petition demanding that SkyWest immediately rehire Shane and Tresa. Let's show them that we have their back.
###
Verity Credit Union
Employees of Verity Credit Union in Seattle have announced that they are forming a union with CWA as part of the Committee for Better Banks project. The workers are frustrated by pay inequities and limited opportunities for advancement at the Credit Union and are concerned about possible limits on remote work.
"Our whole goal of starting this union has been to make Verity a better place to work…If you're going to say that 'people come before the bottom line' is a part of your values, I think it's important that your actions back that up," Verity call center representative Jessica Ufland told American Banker.
Management has launched an anti-union campaign at the credit union, including illegally restricting the distribution of leaflets.
###
Update: Meow Wolf Omega Mart
The management of Meow Wolf Omega Mart in Las Vegas, Nev., has agreed to recognize the Meow Wolf Workers Collective (MWWC-CWA Local 7055) after a majority of workers signed cards requesting union representation. They will join over 450 artists and workers at Meow Wolf locations in Santa Fe, N.M., and Denver, Colo.
The workers will now elect a bargaining team and survey workers to determine which issues they most want to address in an agreement.
Meow Wolf is an immersive arts and entertainment company that was founded as an artist collective. For the artists and production workers, their union is a collaborative force that holds the now-corporate Meow Wolf true to its progressive roots as a collective dedicated to making radical art. Together, the workers and artists of the Meow Wolf Workers Collective are working to make Meow Wolf a beacon for working creatives around the world.
---
This post originally appeared on cwa-union.org.
CWA Passenger Service Agents Reach Tentative Agreement at American Airlines
Don't Cross the Digital Picket Line as Washington Post Members Strike
Workers at Third Wells Fargo Branch File For Union Election