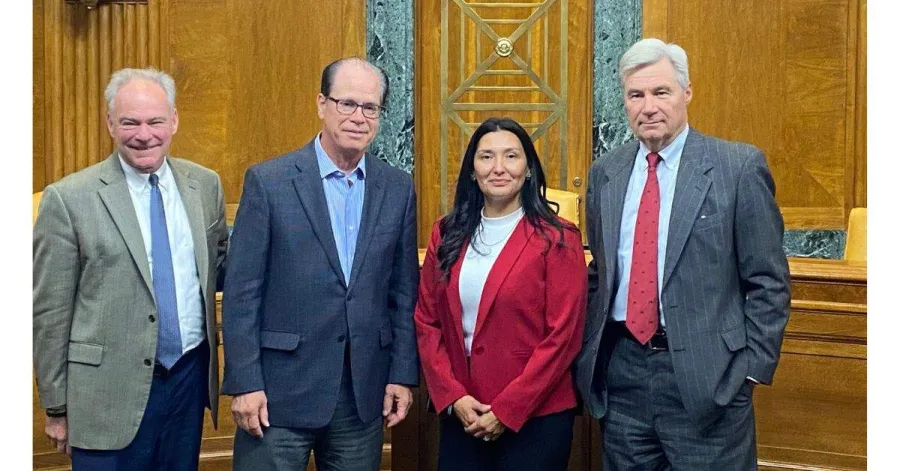 CWAer Testifies Before Congress to Protect Public Investment in Union Jobs
Yesterday, CWA Local 7304 member Veronica Puentes testified before Congress for public investments that support union jobs.
When Veronica first walked into the New Flyer plant in Crookston, Minn., for her first day of a union job 12 years ago, she thought she might work there for a year. Now, Veronica credits God and her union for transforming her life. Once a returning citizen looking for a second chance, Veronica has found purpose and a better life through her union, becoming a union steward and a homeowner.
As Congressional Republicans threaten to shut down the government at the end of the month unless they are allowed to slash the budget, Veronica offered powerful testimony to protect critical investments made through the Infrastructure Investment and Jobs Act (IIJA) and the Inflation Reduction Act (IRA) because so many are benefiting from the good union jobs created by the investments from these laws.
"Thanks to the incentives and investments provided by the IIJA and IRA, our facility has been busy filling orders for electric buses for transportation systems across the country and workers no longer stress about losing their jobs," Veronica testified. "I am a prime example of how unions can be a life-changing opportunity for someone struggling to get by. Congress must ensure that all jobs created through federal investment are union jobs that will provide workers with a good quality of life."
Watch Veronica's testimony before Congress.
 
CWA Local 7304 member Veronica Puentes with Sens. Tim Kaine (D-Va.), Mike Braun (R-Ind.), and Budget Committee Chairman Sheldon Whitehouse (D-R.I.) after delivering her testimony before the U.S. Senate Committee on the Budget.
###
No Tax Breaks for Union Busters
This week, U.S. House of Representatives members Donald Norcross (D-N.J.), Judy Chu (D-Calif.), and Brendan Boyle (D-Penn.) introduced the No Tax Breaks for Union Busting Act to end the ability of corporations to deduct union busting expenses from their taxes. A similar bill has also been introduced in the U.S. Senate.
"Giving tax breaks for union busting adds insult to injury," said CWA President Claude Cummings Jr. "Corporations spend millions to prevent workers from joining together to demand what we are due – family-supporting wages, good benefits, and reasonable work schedules. For the U.S. Government to subsidize these attempts to silence working people is unconscionable. Congress must do everything in its power to crack down on union busting and ensure that all workers who want to form a union have a chance to do so."
In recent decades, as union busting activity has exploded, corporations have profited by deducting the ever increasing expenses of union busting from their federal taxes. Employers now collectively spend over $430 million per year on "union avoidance" consultants alone – not counting untold millions more on anti-union advertising campaigns and mandatory "captive audience" meetings where workers are forced to listen to anti-union propaganda. Despite this activity being directly opposed to the stated purpose of the National Labor Relations Act, companies are allowed to deduct all of these expenses from their federal taxes just like any ordinary business expenses.
Learn more about the bill here.
---
This post originally appeared on cwa-union.org.
CWA Passenger Service Agents Reach Tentative Agreement at American Airlines
Don't Cross the Digital Picket Line as Washington Post Members Strike
Workers at Third Wells Fargo Branch File For Union Election